We sat down with S. Juliette Lee, Program Director at Chinook Fund, to hear about her decision to move to Colorado to make an impact, the challenges she's faced, and the social justice work she's currently engaged in.
Previously, as a professor at a small arts college in Philadelphia, Juliette felt disenchanted about the change she could make in her community and moved to Colorado to fulfill that desire. As the Program Director for Chinook Fund, Juliette works closely with a volunteer cohort made up of a diverse group of community members.
"My job is a blend of community organizing, facilitation training and fellowship support."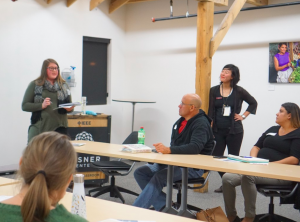 Juliette sometimes refers to herself as the "Chinook Doula," saying the volunteers of her organization drive the effort. Her job, she says, is to help them access the skill sets that they already have within themselves to engage in organizing and fundraising for social justice causes.
Juliette says one of the main reasons she moved to Colorado was to build community, but it was something she struggled with upon initially moving to Denver. She says it took effort to find her people –people she describes as having different backgrounds, cultures and experiences.
Happily, she found her people at Chinook Fund. "What I love most about my job is the people I get to work with. I love the people who come into the door to work with Chinook Fund and our grantee organizations, who are working on issues that I'm often at a loss of words for." Juliette believes Denver is full of possibility and that the change we've experienced through population influx can be a space of opportunity and growth for the city -if the right people are at the table. Those of us at Chinook Fund are thankful she's taken a seat at our table, and for all the work she does in our community.
To find out more about training with Juliette, visit our Giving Project resource page.