Chinook Fund supports community organizations working on issues of racial, social and economic justice in the state of Colorado.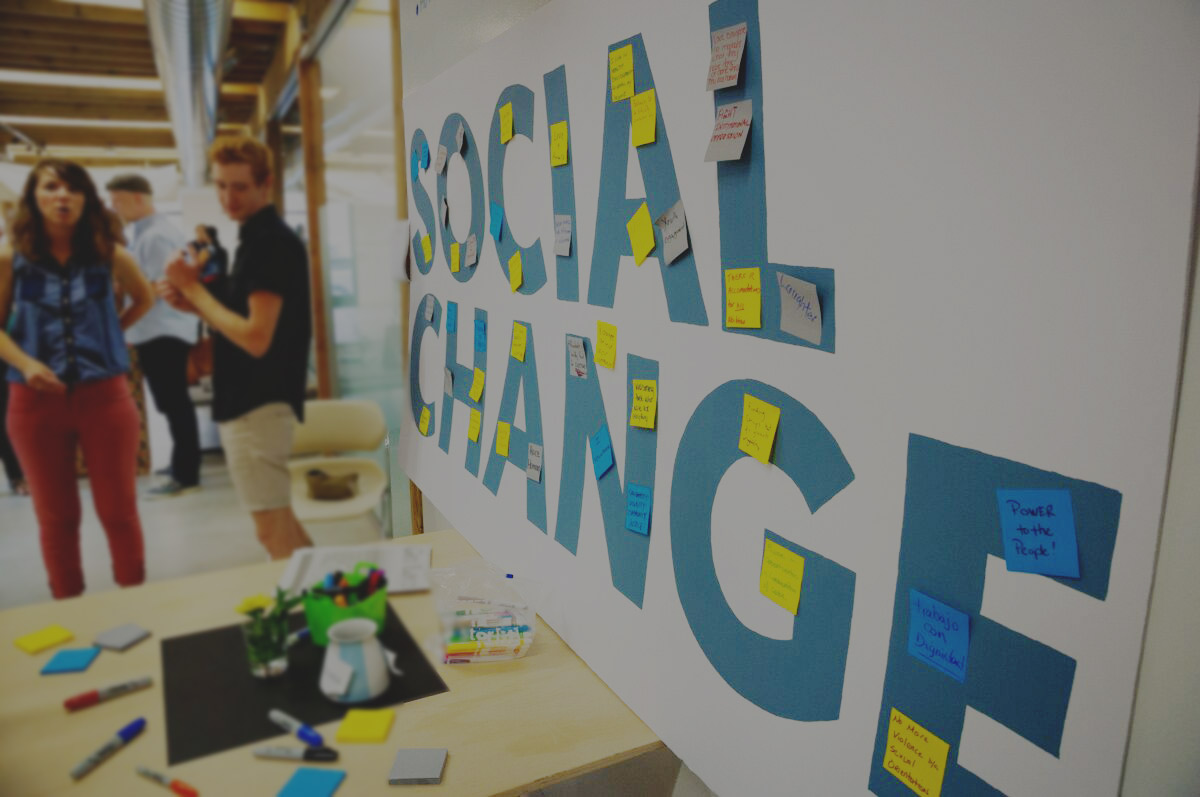 Chinook Fund has given out over $3.1 million in grants since 1987. Chinook Fund pools money from Colorado's progressive community and distributes it back to grassroots groups working on a wide range of social change issues.
Chinook funding supports the most strategic work unfolding at the local level to address globalization, poverty, war, racism and environmental destruction. Chinook Fund's grassroots grantmaking is unique. We recruit our board and grantmaking committee members from the communities we serve throughout Colorado. With the direct knowledge these grantmakers bring, we are able to respond to new ideas and fresh thinking. Chinook Fund makes grants that other foundations may view as "risky" but are often funding years later.
Using our grassroots grantmaking process, we have been an early funder on key issues including HIV/AIDS, sexual violence, immigration, and globalization.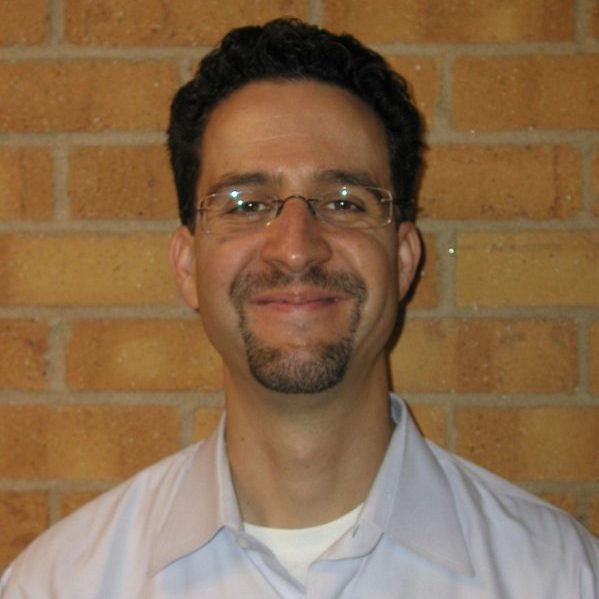 P. Barclay Jones
Program Manager
Pronouns: He/Him
Barclay works with donor organizers through the Giving Project at Chinook Fund. His work focuses on facilitating groups of dynamic individuals as they deepen their awareness of their identities (emphasizing race and class), engage in political education and democratically distribute funding to community organizations across Colorado. In addition to this work, he serves as a consultant to nonprofit, public and private organizations seeking to improve their performance.
Having developed and led a number of high-performing teams, Barclay helps organizations and groups to identify challenges and opportunities while acknowledging and integrating the unique skills and abilities of all team members/employees/constituents. Group facilitation, community development, capacity building, grantmaking and strategic planning are areas that he specializes in. During his time in the nonprofit and public sectors he has focused on the subject areas of early childhood education, education, youth development, asset building, leadership development and multicultural education. He has worked diligently to ensure that community/resident engagement is built into programmatic efforts. Selected as a Livingston Fellow of the Bonfils-Stanton Foundation in 2007, he researched collaborative leadership approaches seeking to improve both organizational and community results (outcomes).
Barclay is the parent of two phenomenal children and actively volunteers in the community.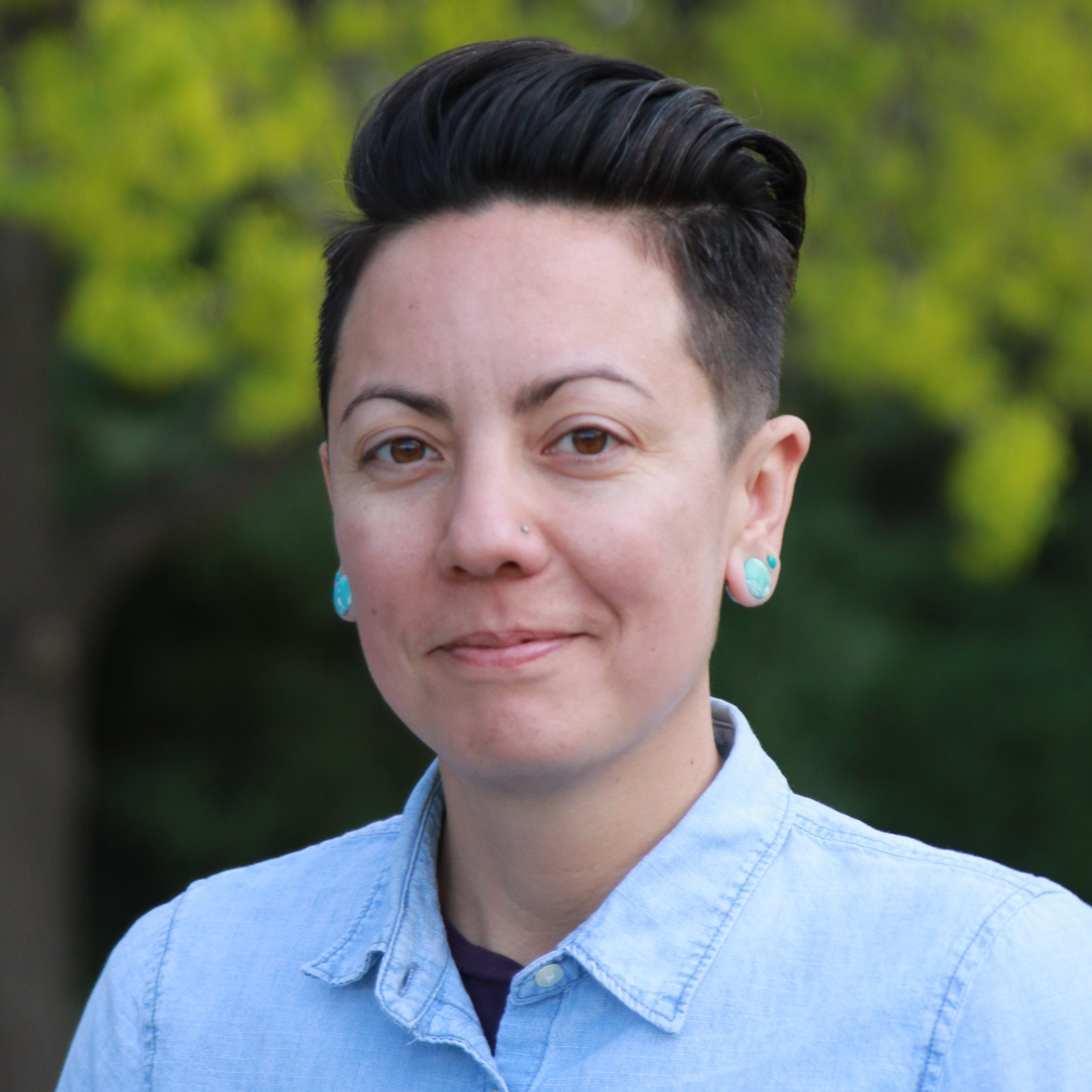 Crystal Middlestadt
Executive Director
Pronouns: They/Them and She/Her
Crystal joined Chinook Fund in April 2018 and brings a depth of experience with nonprofit leadership, resource mobilization, and social justice. Crystal believes that changing our relationship to money has the potential to radically shift the way we mobilize resources for movements. They are thrilled to continue Chinook Fund's legacy of democratic grantmaking through the innovative Giving Project.
Crystal previously worked for the Grassroots Institute for Fundraising Training (GIFT), Survivors Organizing for Liberation, a former Chinook Fund grantee, and is proud to have helped kickstart resource mobilization gatherings at the Allied Media Conference. During their tenure at GIFT, Crystal was proud to bring the 2016 Money for Our Movements: A Social Justice Fundraising Conference to Denver. Crystal is a board member of Resource Generation, serves on the steering committee for the National Giving Project Network, and participated in the Transformative Leadership for Change fellowship for BIPOC leaders in Colorado.
Crystal was raised in a small, working class town in Oregon by a family of paper mill workers and was the first person in her family to graduate from college. After receiving her B.S. in Sociology and Women's Studies from the University of Oregon in 2003, Crystal moved to Denver and soon began organizing around issues of gender justice, LGBTQ anti-violence, and racial justice, sparking her to put down roots in this mountain state.  They are continually inspired by adrienne maree brown, author of Emergent Strategy, who reminds us that what we pay attention to grows.
Crystal lives with in southwest Denver and spends their spare time learning to garden, building their vinyl collection, sneaker shopping, and camping throughout the West.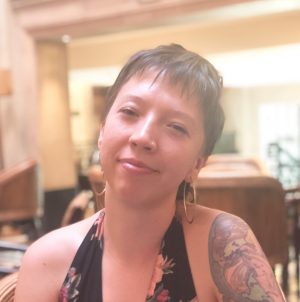 Jessica Nelson
Operations & Grants Manager
Pronouns: She/Her
Jessica was born in Hong Kong and raised in Western Pennsylvania. She moved to California and then Colorado in 2011 to commit two years of her life to public service through AmeriCorps NCCC and City Year Denver. Before AmeriCorps shifted the trajectory of her life, Jessica graduated with a B.S. degree in Neuroscience from Allegheny College. Most recently she completed a B.S. degree in Physics from MSU Denver.
Jessica has been a part of the Chinook Fund team since 2013 and finds joy and motivation in learning from and working alongside Chinook Fund's grantee leaders to change oppressive systems. She is continually inspired by the unique community solutions Chinook funds and feels empowered in making change from the operational and strategic level for this work.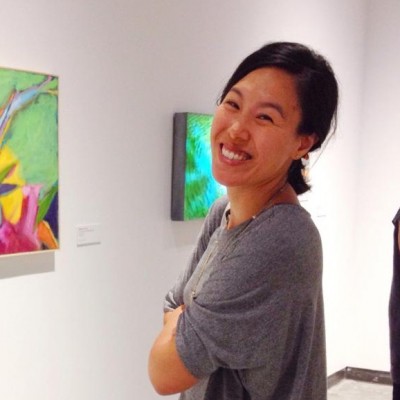 S. Juliette Lee
Program Director
Pronouns: She/Her
Juliette grew up in a cosmopolitan suburb of Washington DC. Raised by immigrant Korean orphans and war survivors, she has extensive experience mobilizing communities through grassroots fundraising tactics and community dialogue. She earned a BA in English and Masters in Teaching from the University of Virginia, and an MFA in Poetry with an Advanced Feminist Studies Certificate from the University of Massachusetts at Amherst. Juliette's training includes critical pedagogy, intersectional feminist research methods, and ethnic studies frameworks.
Juliette started organizing as a canvass director and campus organizer for the Public Interest Research Groups (PIRG) in Massachusetts, then helped open a field office for US PIRG in New Orleans. After completing her poetry degree, she worked in higher education for a decade; she previously taught as a Visiting Assistant Professor for the University of Pittsburgh's graduate writing program and was a Senior Lecturer at the University of the Arts in Philadelphia, where she also directed the Summer Institute for High School Students' Creative Writing program.
Juliette is passionate about the arts as a vehicle for social transformation and has supported national Asian American arts organizing work. She helped coordinate the 2014 National Asian American Theater Conference and Festival, and has served as an editorial consultant for the Smithsonian Institute's Asian Pacific American Center and the Asian American Writers' Workshop. A video artist and author, Juliette has published four books, numerous essays on race and culture, and was a 2013 Pew Fellow in the Arts for Literature. In 2017, the Asian Arts' Initiative commissioned her for a video and installation work, Peace Light, as part of their 25th Anniversary celebration. She occasionally teaches writing workshops at the Lighthouse Writers Workshop in Denver.
Juliette loves dance parties, science fiction, making kimchi for friends, knitting, and biking around town.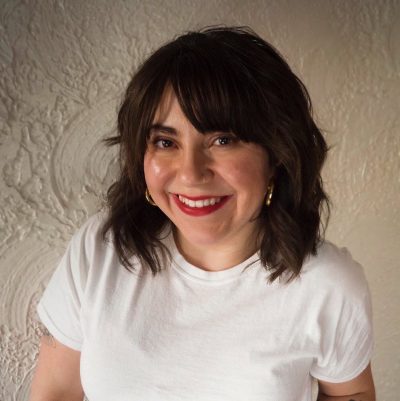 Marie Medina
Grassroots Fundraising Manager
Pronouns: She/Her
Marie was born and raised in the southern plains of Colorado, a descendant of Chicanx farm workers, activists, and a bruja or two. Growing up in a rural farming community heavily impacted by poverty instilled in Marie the power and importance of resiliency. She earned her BA in Psychology and Gender Studies from the Metropolitan University of Denver in 2013. While a student, she organized with Slutwalk Denver, a transnational movement calling for an end to rape culture, including victim blaming and slut shaming of sexual assault victims. In her role, she helped amplify the voices of groups impacted by sexual violence including sex workers, formerly incarcerated people, and homeless/displaced communities.
Marie's grassroots fundraising experience includes developing digital and on-air fundraising campaigns for the independent news network Free Speech TV, counting Democracy Now! and Gay USA among the programming. Her commitment to reproductive justice brought her to the Colorado Organization for Latina Opportunity and Reproductive Rights (COLOR). While at COLOR Marie used transformational fundraising strategies, resulting in the highest grossing fundraiser in COLOR's herstory as well as COLOR's first planned giving program. Through her passion of connecting people to causes through writing, she has produced content for a Denver mayoral campaign, Healthcare for All Colorado, and Curious Theatre Company. In 2018, Marie received an Outstanding Alumni award from Metropolitan State University's Gender Institute for Teaching and Advocacy.
Creativity is a vital part of Marie's life; she serves on the board of Art Students League of Denver and her (many) side hustles include boudoir photography, jewelry-making, writing, event planning, and any activity that includes glitter.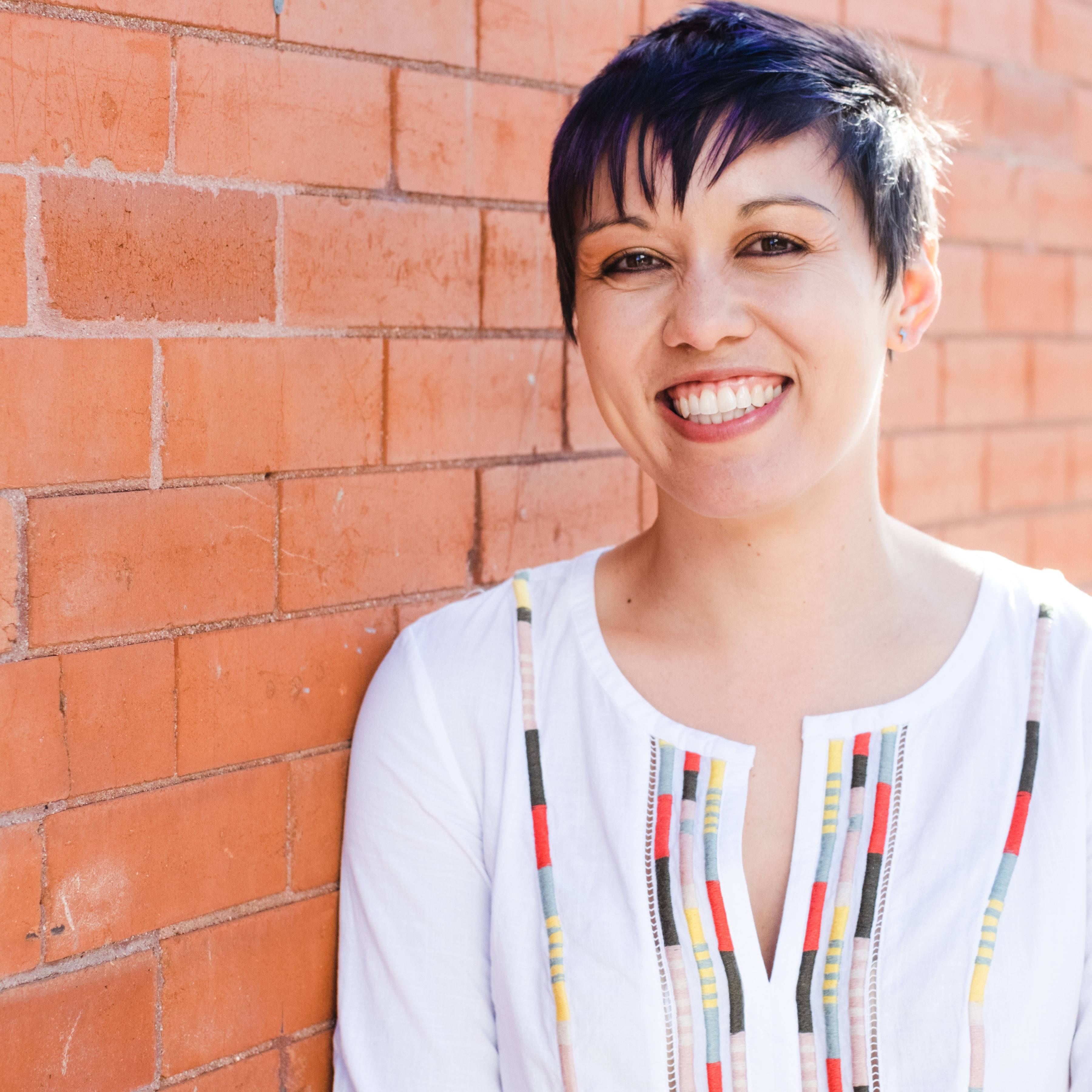 Courtney Banayad
Board Co-Chair
Pronouns: She/Her
Courtney Banayad joined the Chinook Fund's Board of Directors in 2015 and currently serves as Co-Chair.
She believes that philanthropy is a tool for social change. And as a queer Pilipina, she is invested in mobilizing an abundance of resources to support a just world that shifts power to all members of communities. She brings 12+ years of experience in fundraising, communications, and philanthropy to the Chinook Fund community and wears many hats.
By day, Courtney is the Director of Development & Communications at Neighborhood Funders Group, a philanthropic support organization that organizes grantmakers to fund grassroots power building so that communities of color and low-income communities thrive. She co-founded Moxy Group, a QPOC and women-led consulting practice that partners with social justice and philanthropic organizations on fundraising, communications, and design projects. Additionally, she is an Advisor to Their Kids, a socially conscious childcare collective expanding resources to support gender inclusion and empowerment.
Courtney holds an M.A. in International and Intercultural Communications from the University of Denver and degrees in Ethnic Studies and American Studies from the University of Texas at Austin. She lives in Denver, where she relishes 300+ days of sunshine and always has a pint of ice cream in her freezer.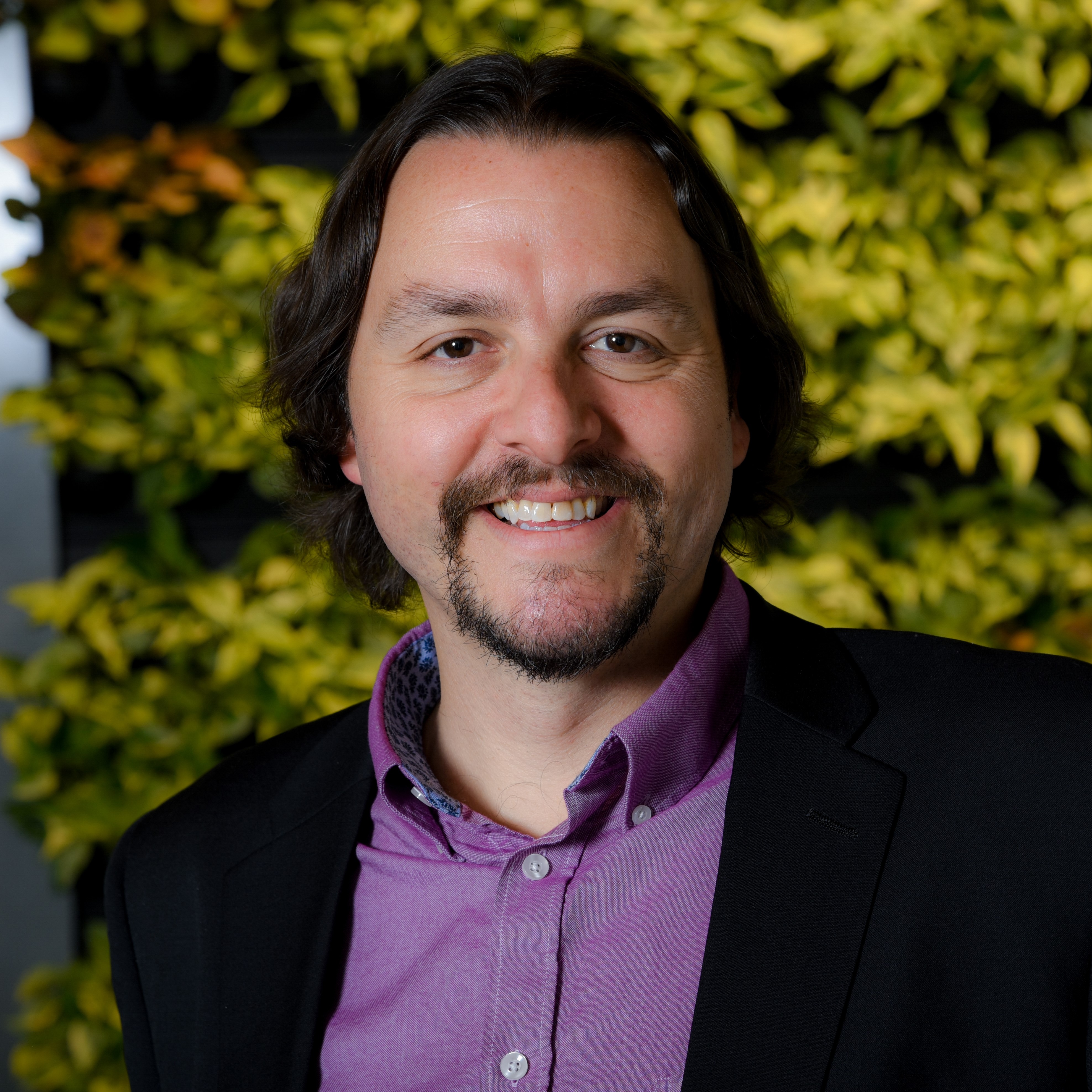 Erik Ortiz
Board Co-Chair
Pronouns: He/Him
Erik is a non-profit leader with expertise in grant administration, capacity building, and strategic planning. A connector, Erik has focused his professional career on advocating for causes and serving communities in the areas of child abuse prevention, HIV/AIDS, cancer awareness and research, public health, and grassroots advocacy. He has served as a bilingual case manager, community organizer, and fundraiser for a number of organizations. Currently, Erik is an Associate Program Officer at the Colorado Health Foundation where he oversees grant administration in the areas of Access to Care and Behavioral Health. Originally from Colorado, Erik is also a dedicated volunteer for the Chinook Fund and an avid traveler and concert goer with his partner, Laura, and pup, Winston!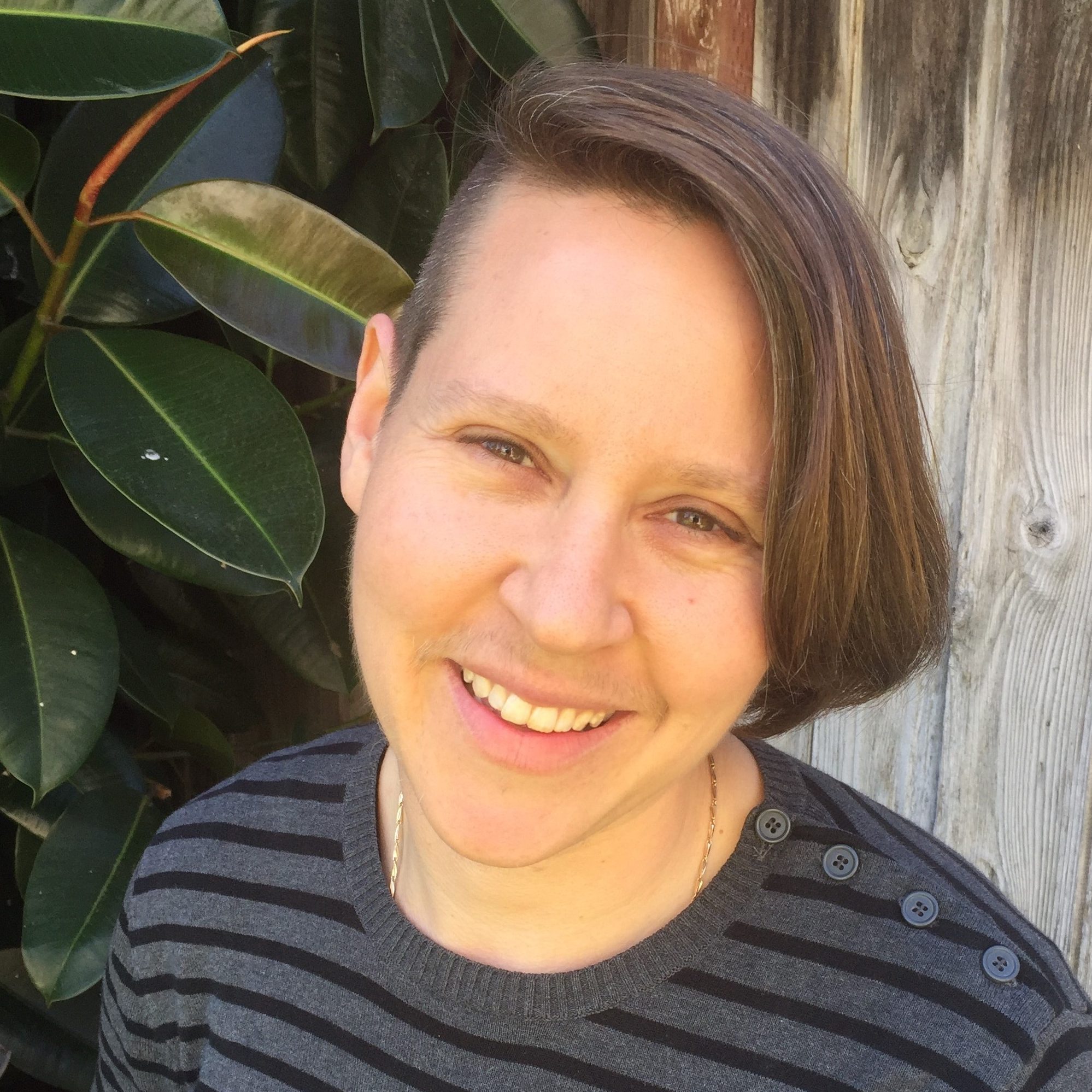 Mac Liman
Board Treasurer
Pronouns: She/Her
Mac Liman was born and raised in Colorado. She is passionate about organizing people around privileged identities — especially young people who, like her, have class privilege — and she is honored to have been able to do this work with beautiful cross-class, multiracial community at Resource Generation since 2005 and the Chinook Fund since 2007. Mac joined the Chinook Fund board in 2014.
In addition to training, facilitating, and moving her people towards collective action for social justice, Mac teaches bicycle mechanics at Bikes Together and lives with many of her favorite people in a shared community home called Sleeptight. She likes being a good neighbor, asking questions, and telling stories that expose the myth of the US meritocracy.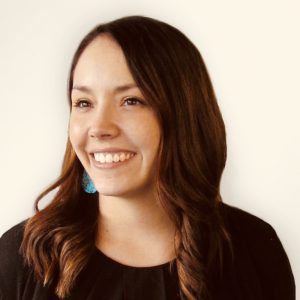 Katie Terrazas Hoover
Board Secretary
Pronouns: She/Her
Katie Terrazas Hoover started her Chinook Fund journey as a cohort member of the Spring 2017 Giving Project, which collectively raised over $86,000-funding 19 Colorado-based grassroots social justice organizations. Following the Giving Project, she remained actively engaged with Chinook Fund, serving as the co-chair of the Giving Project Alumni Community. In her day job, Katie works for Denver Public Schools in Student Voice and Leadership (SVL). As a part of SVL, she gets to work with students and educators across the district with a focus on education justice policy solutions led by youth. She has worked at the intersection of education and social justice in Colorado for almost a decade.  Katie holds a bachelors degree in Political Science from Indiana University. Katie is originally from Northwest Indiana, just outside of Chicago. Her experiences growing up in a highly segregated area among working-class families raised many unanswered questions in her youth, but ultimately seeded her commitment to work towards racial and class justice.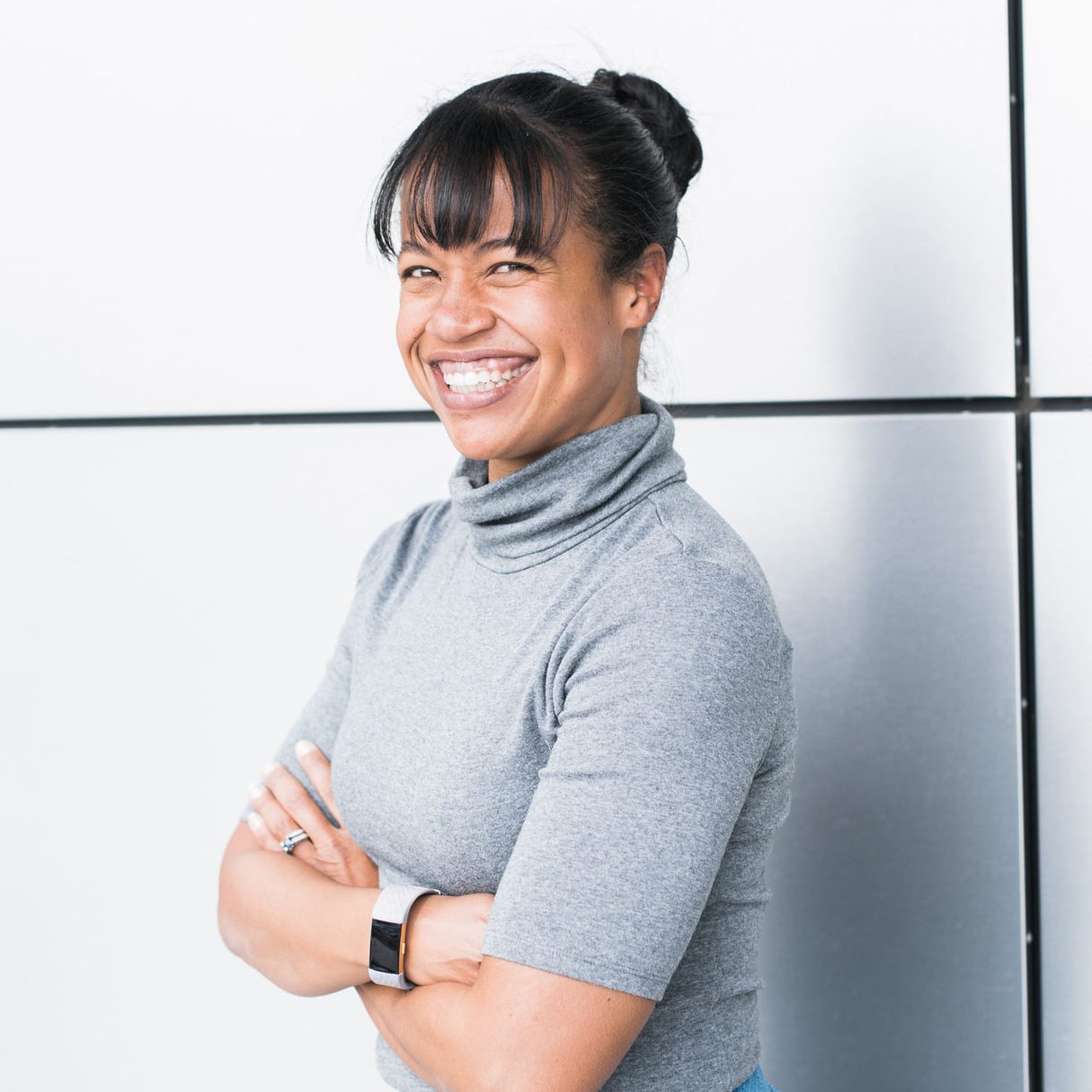 Angela Daniels
Board Member
Pronouns: She/Her
Angela Daniels was part of the Spring 2019 cohort of The Giving Project where she fell in love with Chinook Fund and learned she could do that scary thing called "fundraising". She became a member of the board in October of 2019. She has a B.A. in Theatre Arts from the University of Arizona and an M.A. in Emergent Digital Practices from the University of Denver. 
Angela runs the Product team at a tech company in Denver. Inspired by the work she was doing with The Giving Project, Angela co-founded Women of Color in Tech – a community by and for women of color working in the tech industry to network and grow professionally. 
Angela's favorite book of all time is An Unkindness of Ghosts by Rivers Solomon. It is a science fiction book that explores the intersections of racism, classism, and the oppression of binary social constructs. She is also inspired by The Body is Not an Apology by Sonya Renee Taylor, which lays the foundation for radical self-love as a way to produce systemic change. Angela hopes she can take the lessons learned from both of these incredible works to honor and support the people in Colorado who are using grassroots community organizing to create real change.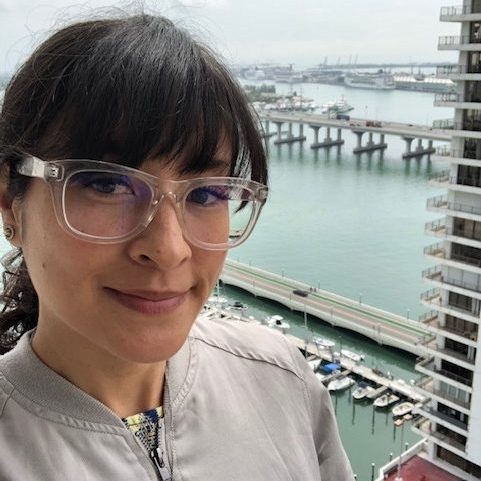 Davian Gagne, MSW
Board Member
Pronouns: She/Her
Davian is a mobilizer of resources and social justice practitioner with experience in the nonprofit, public, and philanthropic sectors. She has mobilized millions of dollars to support social justice efforts by using an equity and social justice lens and authored an article about funder collaboratives. She is also an alum of The Funders' Network PLACES fellowship. For her education, she went to the University of Denver for undergrad and graduate school and holds a Master of Social Work.
In her consulting practice, she offers visioning on resource mobilizing, racial equity learning, and facilitation and coaching on transformative leadership and healing. She is leader with Standing in Our Power and a certified trainer in the "Breakdown to Breakthrough" model for personal and organizational transformation co-created by Taij Moteelall of Standing in Our Power. The Breakdown to Breakthrough model is built on the notion that we must breakdown and release what is not working and no longer serving us to live into a breakthrough vision. It recognizes that both internalized and systemic oppression are significant barriers to building power and creating lasting change and that we need to create intentional spaces and processes to release the ways we've internalized oppression and our attachment to oppressive systems.
She joined the Chinook Fund community in 2006 through the grantmaking committee and transitioned into a co-chair role for the committee as well as joined the board of directors. In 2019, she re-joined the board of directors and is excited to make some money and resources move for the Chinook Fund.
A quote that Davian uses often in her work in life in general is "Lift as you climb!"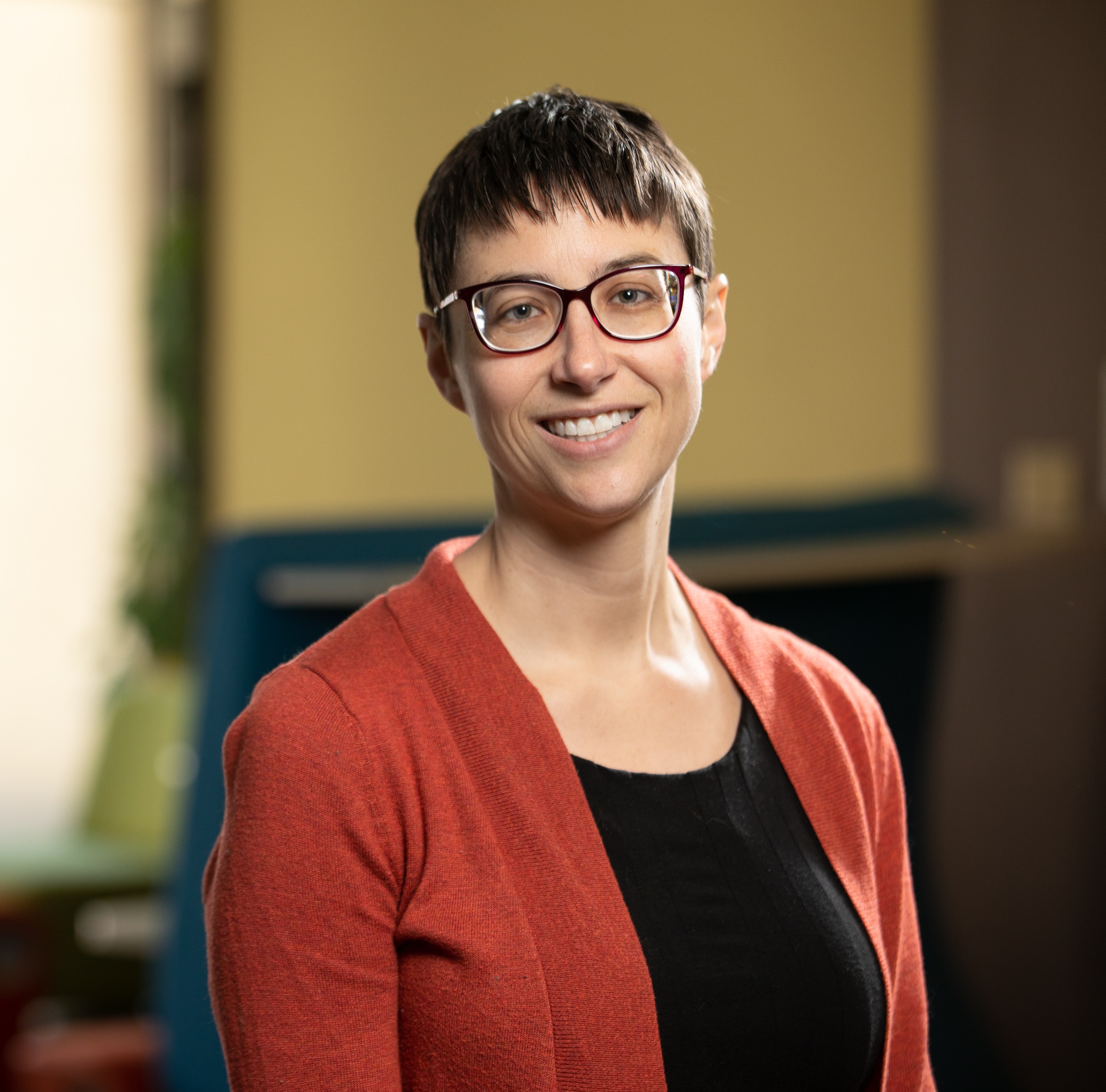 Angela Schreffler
Board Member
Pronouns: She/Her
Angela has worked in the nonprofit sector her entire career, starting as an AmeriCorps member right out of college. She has worked as Colorado Nonprofit Development Center's Vice President since 2013.  Prior to her current position, she was the executive director of Denver Regional Mobility and Access Council (DRMAC). Angela volunteers with Bessie's Hope and with the Whittier Neighborhood Association, where she resides. She has served on several boards of directors and committees, including the event planning committee with Chinook Fund. Angela participated in Chinook Fund's Giving Project in 2017 and joined the board in 2019. Angela has a master's in Public Administration with an emphasis in Nonprofit Management. Away from work, Angela enjoys gardening, hiking, traveling, and craft beer.