New grantee from Fort Collins, The Growing Project, sent us a recap of their most recent season and a story about one of their inspiring volunteers!
As an all-volunteer-run organization for the past 5 years, The Growing Project has relied on the passion of individuals, the generosity of our community, and the ingenuity to solve problems with very little financial support.  We made a big step in winter 2013 and received funding to hire a full-time staff member.  Having a centralized and hardworking individual to develop programs, promote our mission, and develop resources has been crucial to our growth.  And we continue to grow!
However our growth could not happen without the amazing support of organizations like the Chinook Fund.  They have shown true altruism by supporting small, grassroots, organizations.  While we have struggled over the years to prove our impact on the community, the Chinook Fund saw our worth in the numerous people we help and pounds of food we donate.  Their funding has helped us expand and develop our youth programs that serve at-risk and adjudicated youth as well as provide more stable support for our community gardens in low-income neighborhoods.  This support has enabled us to work with over 75 at-risk youth, 50 low-income families/individuals, and produce and distribute over 7,500 pounds of healthy food to people in need so far in 2014.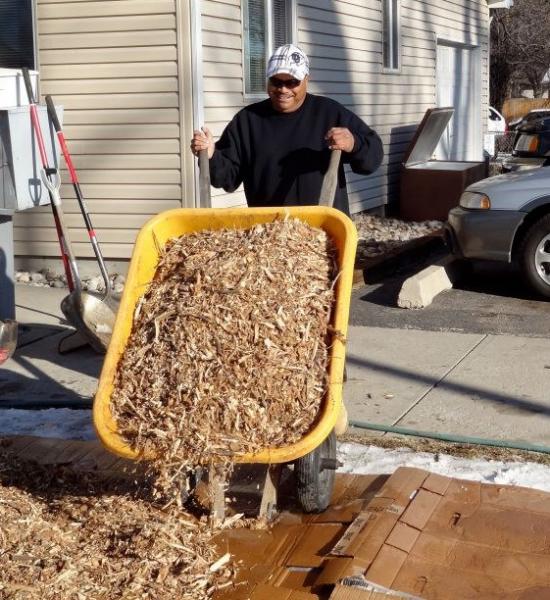 This is Albert. Below is his story.
Albert has lived in one of the Fort Collins Housing Authority group homes (for men transitioning out of homelessness) for the past few seasons.  He took an immediate interest to the garden installed by The Growing Project (TGP) and would work alongside TGP volunteers each week.  He was the driving force behind garden maintenance making sure everything was watered and cared for.  He excited the other residents by cooking amazing dishes with the garden fare such as squash soup and salsa verde.  Soon a handful of residents were working and eating from the garden on a regular basis.  Produce that was not consumed by the residents was walked down the street by Albert to be donated to Catholic Charities.
In early 2014, Albert has massive surgery on his knee and was unable to help in the garden how he wanted.  With the expanded financial support of our organization, The Growing Project was able to provide a special intern at the garden to help Albert and the other residents.  This Fort Collins native and recent college graduate immediately became friends with Albert and a few of the other men.  She helps with task such as bringing seeds and plant starts to the garden, helping stake tomatoes, turning the compost, and harvesting produce. She would even bring prepared food to Albert when he was bedridden after his surgery.
Albert is back on his feet but our intern continues to go to the garden each week because of a great friendship that has been formed.  They share an occasional beer on Friday afternoons and anyone from The Growing Project that shows up at the garden walks away with as much fresh salsa verde as they please!
"I definitely been able to see participation at the garden grow as the summer has continued and veggies start to pop up. It's so rewarding to work with them, learn together, and know that the veggies, our caring and TGP's efforts, or all of the above, are brightening their day. It certainly brightens mine."
-The Growing Project's Intern, on Albert and working with volunteers at the garden 
Recent Challenges… And Solutions
This group of residents has experienced many challenges related to food security, health, earning a living, and having a place to call home.  Ove 14 percent of the population in Larimer County is considered food insecure, not to mention one out of every 3 adults is considered overweight or obese.  Many of these residents are unemployed, looking for work, or in low paying jobs.  Also many of these men are isolated due to their past situations and are often judged for this.
The Growing Project garden has provided participants with a space to get outside, exercise, and access healthy foods.  Many are unable to afford and are unaware of the benefits of healthy, local, produce. They take pride in a garden and it encourages many to eat more fruits and vegetables.  It also encourages giving back to the community by donating their excess produce.  The garden and The Growing Project also give them the opportunity to work with a nonprofit, gaining vocational skills, contributing as a volunteer, and having something to put on their resume.
Also, the garden creates a community space for the group home.  Not only do the residents gather and cook together on occasion, but members of The Growing Project community are often at the garden.  This has made some unlikely friendships and connections that would not have been made otherwise.
"Not only does The Growing Project grow food, but we grow community around food.  We work hard to ensure that everyone has a full belly, access to education, and the opportunity to improve their own lives. Whether that is working under the hot sun in a garden, leading at-risk youth in through the greenhouse in the depths of winter, or peddling our bikes full of produce to the food bank, we strive to create a salubrious community one vegetable at a time.  We could not do this without the amazing support of organizations like Chinook Fund.  Their generosity has truly made a difference in helping to ameliorate the lives of the people of Fort Collins."