Get to Know our New Executive Director, Crystal Middlestadt!
It's an exciting time at Chinook Fund, as Crystal Middlestadt officially takes the helm as our new Executive Director.
As you may have heard, Crystal brings over 12 years of experience in nonprofit leadership, resource mobilization, and racial and economic justice work. She most recently served as co-executive director of the Grassroots Institute for Fundraising Training, and previously as co-executive director of Survivors Organizing for Liberation.
We sat down with Crystal to learn more about her background and discovered some fun facts about her along the way.
Q: Who inspires you?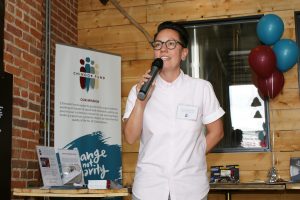 A: I have so many people in my life who inspire me! Taij Kumari Moteelall, Diane Marie Lee, and the rest of the amazing leaders and healers of color in the Transformative Leadership for Change (TLC) fellowship are a steady source of inspiration for me. Through TLC, I am learning to move towards vulnerability and boldness in ways that are pushing me to be a more thoughtful leader. I'm gaining the experience and tools to embrace collective healing as a tangible strategy for strengthening movement building work in Colorado and beyond. adrienne maree brown, author of Emergent Strategy, inspires me to embrace change in ways that are liberatory. She reminds me to stay open to new possibilities as I do my best to adapt to quickly changing political, social, and environmental conditions. And, last but not least, my 83 year old grandmother inspires me to live my best life. Throughout her life, she's continued to keep a tight knit circle of friends that care for each other, travel, and have fun. She has cultivated a type of independence that's not common for women of her generation.. and she's always the life of the party!
Q: What's the best concert you ever attended?
A: D'Angelo on his Black Messiah tour in 2015. I bought his first album when I was in high school and had been awaiting the release of his elusive third album for years. Music has always been a big part of my life. My dad is a serious music collector, audiophile, and jazz fan. He's the kind of guy that hangs foam on his walls and ceiling to create a better listening experience. It was a sort of rite of passage in my family to get your first hifi stereo set up. I spent many summers at Portland's waterfront blues festival and hours upon hours browsing for CDs and tapes at local record shops. Even now when I visit my family in Oregon, it's a special treat to get to sit in my dad's "listening" chair while he plays a record for you.
Q: Where's your favorite place in the world?
A: Canyonlands National Park is magical. My partner and I love hiking in the Needles district and exploring other parks in the region. The combination of red rock canyons and juniper is so lovely. I try to make it there at least once a year. It's a place that never fails to rejuvenate my mind, body, and spirit while giving me a more grounded perspective on life.
Q:
What's the last book you read?
A: The World Without Us by Alan Weisman. It's a sort of nonfiction dystopian look at how the earth would recover and heal should humans disappear tomorrow.
Q: What's the coolest thing you're working on right now?
A: I'm coordinating the Mobilizing Our Resources network gathering for the Allied Media Conference next month and having so much fun with it! This year, we are diving deep into exploring our personal relationships to money in ways that will hopefully radically shift the way we mobilize resources in our own communities. The coordinating team has become a sort of fundraising family for me. We've been meeting via video conference for the past several months and those conversations have naturally moved towards a level of vulnerability and connection that are refreshing to me. It's been liberating to open up about my class background and how that affects my approach to fundraising and resource mobilization.