"This is one of the biggest needs in our community that can be met."
Lesbian, Gay, Bisexual, Transgender, and Queer youth living in rural areas report that they receive little support from their community, but say a lack of resources –not the community itself –may be the reason.
A recent study by the University of Kansas looked into the experience of LGBTQ youth who live in rural settings and found that they are at an increased risk of mental and physical health problems due to stigmatization and marginalization, yet have less access to other LGBTQ people and resources than those living in urban areas.
The Chinook Fund awarded a grant to 4 Corners Rainbow Youth Center in spring 2016 for their work to create a support structure for LGBTQ youth in the community. "By offering a safe, non judgmental space for youth to show up as themselves, the Rainbow Youth Center saves lives," says Rowan Blaisdell, psychotherapist and a founder of the center,
Based in Durango, the Rainbow Youth Center is a 501(c)(3) not-for-profit dedicated to providing resources and guidance that meet the needs of youth and allies in the community. The 4 Corners Rainbow Youth Center's mission is to offer a safe and visible space for LGBTQ youth and their families in the community, and aims to demystify stereotypes and empower through education.
Before Rainbow Youth Center was founded in 2015, those living in Durango and surrounding areas would have to drive over three hours to Albuquerque for any kind of direct support. "This region hasn't seen anything like this," says Jennifer Stucka, social worker and a founder of the center. "What I love about the Rainbow Youth Center is it was a direct response to youth voicing that they needed something like this in the community and now they are the ones who have created a family here. We provide guidance and structure for conversation, but they really support each other."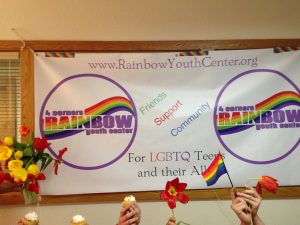 Though LGBTQ youth living in rural areas experience unique challenges and barriers, the same can't be said for the Rainbow Youth Center that supports them.
"What's been so magical about this experience is that we haven't had the typical problems that people have establishing a space in a what's considered a rural area," Stucka shares. "The community has been extremely supportive and we have a great number of people showing up and participating in our program activities. It's a huge success, which makes it obvious to us that this is one of the biggest needs in our community that can be met."
For more information on the Rainbow Youth Center: http://www.rainbowyouthcenter.org 
To learn more about how to get involved in social change: https://chinookfund.org/givingproject/
Support social justice: https://chinookfund.org/donate-now