Announcing 2022 Right Relationship Grants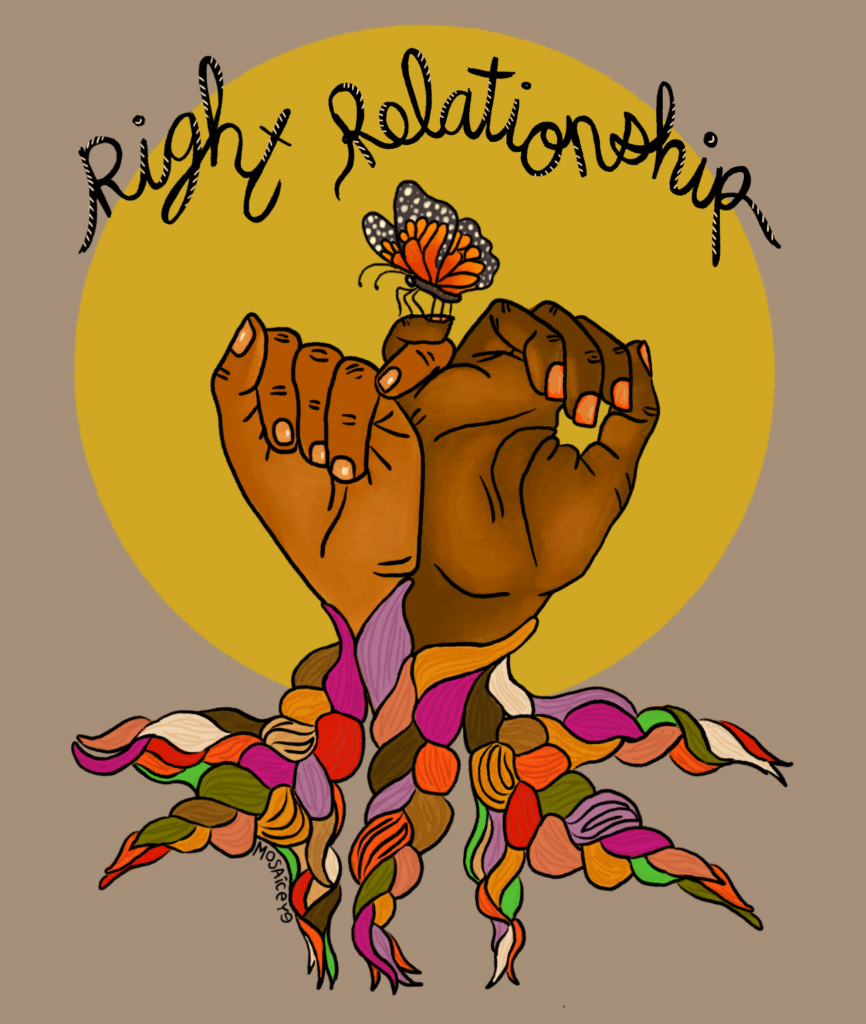 Artwork by Chetna Mehta, www.mosaiceyeunfolding.com
Those of us fighting for justice, freedom, and liberation know the fundamental truth that relationships
are our greatest resource, currency, and source of
true
wealth.  
From the time this land was colonized, systems of white supremacy, patriarchy, and capitalism have used brutal strategies of divide and conquer, separation of families and communities, and ideologies of "individualism" and "independence" to perpetuate oppression. This is why our work to heal relationships, build solidarity, and practice interdependence are some of the most powerful tactics to win our collective liberation. We also know that because most harm happens in relationship and in community – our greatest potential for healing is also in relationship and in community.
In that spirit, Another World is Possible Fund is opening up a new cycle of grants focused on the theme of right relationship.  
When you are 'right' with something, you are walking in a good way, honoring the responsibility to protect and nurture the intimate relationship that protects and nurtures you, whether that relationship is with another person, the earth, or yourself.
(Language adapted from
Jai Medina
)
TLC and Chinook Fund recognize that this labor of loving, caring for, and healing relationships is often unseen, unacknowledged, and under-resourced in the social justice movement ecosystem. We hope to use these grants to honor the time, tools, training, and resources it takes to build transformational relationships, restore, and heal relationships, learn how to move through conflict in a way that deepens trust, and practice restorative ways to address harm. We also recognize that to be in right relationship with each other, we must also be in right relationship with ourselves and the earth.
We invite eligible organizations to put forward proposals that support work to be in right relationship. Consider what resources you need to support:
Building coalitions,

practicing new ways of addressing conflict,

healing tensions within and between organizations,

developing intergenerational relationships,

healing relationships to the land/earth, building solidarity between communities,

healing relationships with ourselves/our bodies,

ancestral relationship healing,

creating spaciousness/rest in the work (so we can show up better in our relationships),

community healing circles  – and so much more. We invite your creativity, vision, and bold ideas!
In addition to supporting resilience and relationship-building projects, Another World is Possible will continue to provide flexible and rapid response funding for crisis and emergent situations.
We will be making monthly funding decisions for Another World is Possible Fund. We encourage organizations affiliated with Chinook Fund and/or Transformative Leadership for Change to apply by July 25th in order to receive funds for the August grant cycle. Applications will be reviewed monthly.
To apply, complete the Google form here. To learn more about the Fund, visit www.chinookfund.org/anotherworld or download the detailed fund vision and description: Another World is Possible Fund Overview PDF. Email grants@chinookfund.org with questions.